50 Fun (and Frugal) Things To Do Over Winter Break
School's out for winter break, and the kids are bored. Today I'm sharing over 50 fun activities and things to do over winter break with kids!
The Best Winter Break Activities for Kids
Having your kids home from school over winter break presents an interesting challenge.
Sure, they are also home during spring break and summer vacation – but during that time the weather is nice and you can just send them outside to play.
Get your free guide!
Family Goal Setting Printable
Get your copy of this free, easy-to-use tool that fosters team spirit within your family. It's perfect for sparking engaging discussions about goals and helps outline a clear, manageable action plan to turn dreams into reality.
Winter break requires a plan because otherwise everyone will be just be stuck inside for two weeks with nothing to do.
This is a recipe for whining, bickering and misery.
Not fun 🙁
Instead, allow your children to take a look at the winter bucket list activities below and create a schedule together as a family.
I like to use my favorite dry-erase calendar to plan out our winter break activities since it's easy to modify if we change our minds at the last minute.

The calendar also acts as a nice visual reminder for everyone that we have something fun to look forward to each day!!! Woop Woop!
Below you will find tons of great winter break ideas to do at home and outdoors as you create, laugh and enjoy your time together over Christmas break.
50 Fun Things To Do Over Winter Break (With Kids)
As a teacher and mom, I know it can be expensive and exhausting to try to keep kids active and busy when school is closed, so I tried to include a lot of inexpensive and frugal activities on this list.
Most of these winter break activities can be done for free or with just a few supplies that you probably already have on hand.
By the way, if you have any suggestions for your favorite winter break activities please be sure to comment below….now on to the list!
Indoor Activities for Winter Break
Make English Muffin Snowman pizzas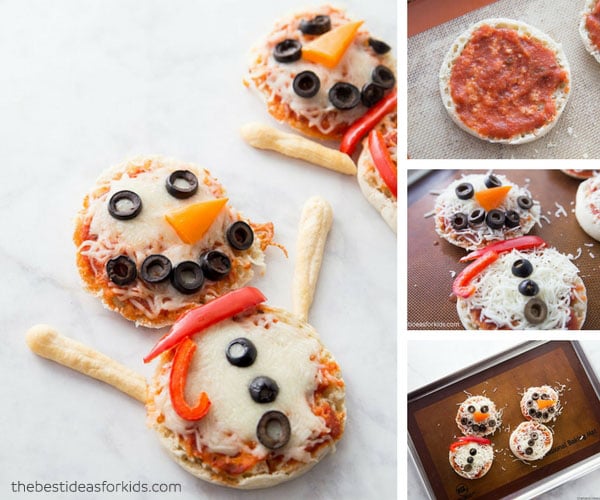 Read a book together – then watch the movie!

Use discarded Christmas wrapping paper to decoupage gift boxes to use next year.

Have an indoor snowball fight with No-Mess Indoor Snowballs

Photograph each activity, then turn the pictures into a Best Break Ever scrapbook.

Work on a puzzle together.
More Fun Things to do During Winter Break
As much fun as it is to spend some much-needed downtime at home, eventually the kids will start to climb the walls.
I find that it's best to create a balance between at-home and outdoor activities anytime the kids are out of school for any stretch of time.
We seem to have the most fun (and manage to get along with each other) when we plan one at home and one outdoor (or away from home) activity each day.
For example, if our morning activity is to make homemade donuts then later in the afternoon I would want to make sure that we left our house at some point.
It could be just to go into the backyard or take a walk around the block, or we would all load up in the car and head somewhere.
The secret is to keep everything simple.
Your plans for each activity don't need to be complicated or expensive to be fun.
Related Post: The Best Toys for Active Kids (recommendations for ages 2-teen)
So, when you feel like everyone's been cooped up in the house too long, head outside for one of the family-friendly activities below.
Outdoor Winter Activities to do with Kids
Visit a museum

Go roller skating

Build a snow fort with the snow block molds

Stock up on books at the library

Head to the snow
Go to the movies (or a drive-in if theaters are closed in your area)

Bounce the wiggles out at a trampoline park

Go bowling

Try indoor climbing

Make and hang pine cone bird feeders for winter migrating birds
Go ice skating

Play indoor mini-golf

Bundle up for a winter hike

Go on a winter items scavenger hunt

Build a snowman
Have a real snowball fight

Go to the movies

Make snow cones from freshly fallen snow or use this machine.

Visit friends and family

Slide down a snowy or grassy hill on a Ski Skooter
There you have it mama! Tons of great ideas to keep the kids busy during winter break.
Related Kids Activities Posts:
Winter Break Activities FAQ's
What are some fun winter activities for toddlers?
Most of the ideas included on the list above can easily be done with a toddler or adapted for a toddler. When choosing winter activities to do with younger kids you want to be sure that safety is your number one priority. If you are planning any outdoor activities you will want to make sure you have the appropriate gear for them to stay warm and dry: gloves, hat, snow suit, boots etc. Plus if there is any chance of them getting wet, you will also want to bring a change of clothes. If you are planning to be indoors art and sensory activities are always a hit with toddlers, just be sure that there are no objects that they could choke on.
What can you do at home for winter break?
There are tons of ideas and activities that you can do at home over winter break. The list above has quite a few suggestions. Many families I know tend to use winter break as a stay-cation; a time to stay home and relax. You can spend the day watching movies, reading books, doing crafts and trying new recipes. Just because you're staying home for winter break doesn't mean it has to be boring. Create a list of at least one activity you want to do each day to keep it fun and exciting.
What can kids do when bored in winter?
Obviously, this depends on the ages of your children but here are some ideas:
Winter Activities for Toddlers:
finger paint
nature walk
winter sensory table
play in the snow
Winter Activities for Elementary Aged Kids:
Ice skating
Hockey
Art projects
Crafts
Scavenger Hunts
Winter Activities for Middle School Kids:
Baking
Cooking Dinner
Nature Hikes
Making crafts to sell
Learn to knit or crochet
Winter camping
We would love to hear from you! What are your favorite winter activities to do as a family? Comment below!
50 Fun Winter Activities for Kids

Get your free guide!
Family Goal Setting Printable
Get your copy of this free, easy-to-use tool that fosters team spirit within your family. It's perfect for sparking engaging discussions about goals and helps outline a clear, manageable action plan to turn dreams into reality.