Advent calendars are such a fun Christmas tradition. Kids just love the excitement of counting down the days until Christmas. Today I am sharing my favorite advent calendar fillers for kids. Take a look below!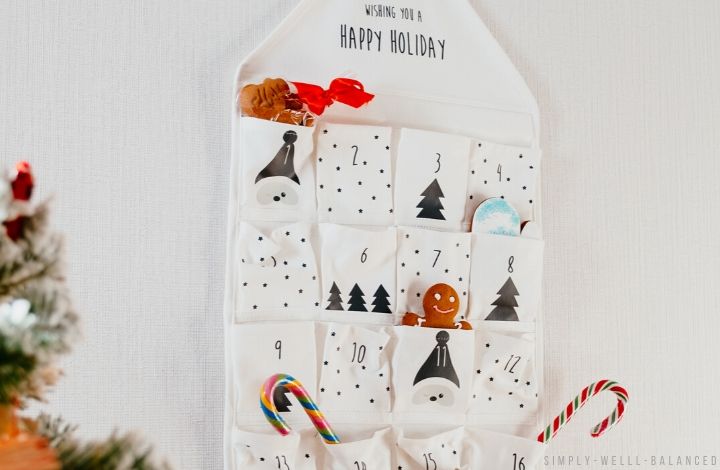 I am a huge fan of simple Christmas traditions that create lasting memories for our children.
Keeping the holidays relaxed and stress-free has been life-changing for me as a mom and I try to spread the news that it's possible to anyone and everyone who will listen.
It takes intention, practice and focus – but it's SO worth it!
The holidays used to be a time of stress, overwhelm and debt that I basically wanted to avoid.
Related Post: How to Simplify Christmas this Year
Now, I look forward to this time of year knowing that my kids won't be little forever and these moments are fleeting and precious.
This post may contain affiliate links for your convenience. We only include brands we use and trust. See the full disclosure in the privacy policy.
If you are looking for a simple way to celebrate the holidays with your children you should definitely try an advent calendar.
You can definitely buy one (like these).
Or you can make your own DIY Advent Calendar.
Either way, you are going to need things to put into your advent.
That's why I created this handy-dandy list!
What to put in an Advent Calendar
As a mostly minimalist mom, I hate the idea of giving my kids junk toys in the name of tradition.
When making this list of advent fillers for toddlers and kids I tried to think of items that would be useful, practical, enjoyable and fun!
As much as possible, I tried to avoid candy and other small plastic trinkets.
That being said, there is some candy on the list because it's a fun and special treat that kids love.
With over 50 advent filler ideas on the list you can pick and choose what works best for your family and lifestyle.
Advent Calendar Fillers for Kids
Lip gloss

Jewelry

Movie Theater Tickets

Fun Holiday Activity Cards for Kids

Nail Polish

Temporary Tattoos

Gourmet Candy Canes

Erasers

Money

Hand Sanitizer

Bubbles

Ice Cream Shoppe Gift Certificate

Bath Bomb

Hot Wheels

Locket Necklace

Hair Scrunchies

A Watch

Sunglasses

Mini-Puzzles

Bouncy Balls

Squirt Gun

Jump Rope

New Toothbrush

Christmas Ornament

Yo-Yo

Harmonica

Mittens

Socks

Gold Candy Coins

Homemade Cookies

There you have it ya'll. Tons of ideas of what to put in your child's advent calendar this year.
Please comment below and let me know which ideas were your favorite.
Related posts:
Awesome Advent Calendar Fillers for Kids