Today I am sharing our family's favorite easy and kid friendly soup recipes to help make your weekly meal planning "souper" simple. LOL! For real though, soup is the perfect weeknight meal…and the kids love these recipes.
The Best Kid-Friendly Soup Recipes for Busy Moms
Ah…Dinnertime. It happens in my house every evening around 6pm, but the mental preparation starts long before.
I typically do my weekly meal planning and grocery shopping on Sundays so that I already know in advance what I will be making each night for dinner.
The planning usually starts with plugging in a few of my "old faithful" recipes and then filling in with ideas from my Quick & Easy Meals board on Pinterest.
Once the weather starts to get a little cooler, I usually dedicate one night as "Soup Night". Ha!
Chicken Noodle Soup
Alright mamas, we are gonna kick this quick and kid friendly soup recipe round-up off with a childhood favorite – Chicken Noodle Soup.

This has bite size chunks of chicken, no onions (usually a kid friendly no-no) bite-size noodles and tons of flavor.
This recipe will have your kids picking up their bowls and slurping every last drop.
Need something a little more elevated to satisfy the adult appetites in your house? How about pairing it with a Buffalo Chicken Grilled Cheese Sandwich – my hubby's fave.


Kid Friendly Chicken Noodle Soup from NATUREBOX
Made With Love Chicken Noodle Soup (GF, DF)
We are gonna keep rollin' right along with the Chicken Noodle Soup theme! This time we have a gluten free version. This recipes calls for homemade stock, which I love to make from scratch when I have time on the weekends. Homemade bone broth is my specialty when one of the kiddos are sick, but for a quick weeknight dinner just grab a box of stock from your pantry. I just love the heart shaped carrots too! Check out her tutorial on how to make your own.

Gluten Free – Made with Love Soup from The Nourishing Home
Mac-N-Cheese Soup
I don't think there is a kid out there who can resist mac-n-cheese. I know that my own kids would eat if every day if I let them. One of my favorite kid friendly soup recipes, this only takes 25 minutes to make and includes some veggies for extra nutrition.
Mac-N-Cheese Soup from Parents Magazine
Kid Friendly Crockpot Lasagna Soup
I received two crockpots at my bridal shower. At the time, I remember thinking, "crockpots are for grandmas". Well, I am not a grandma – but I love my crockpots! They are two different sizes and I use them both consistently. It's awesome to throw the ingredients in before I leave for work, and come home with dinner ready to go!
If your kids are asking for lasagna but you don't have the time to prepare the traditional method, this lasagna soup will make them happy. Instead of layering a lasagna, it only takes 15 minutes to toss all the ingredients into the crockpot and then go about your day.
Make your own Spaghetti O's
As a child of the 80's I had many of my meals prepared by a chef. You know, Chef Boyardee! I can remember sitting in the living room and eating Spaghetti O's on my TV tray. Those were the days! My poor kids have to suffer through sitting at a dinner table, with the TV turned off and have never eaten pasta out of a can. This recipe for Spaghetti Ring Meatball Soup from An Edible Mosaic will make sure your kids can have the experience of Spagetti O's, but made at home with real ingredients. Even better – you will want to eat this version too!
Alphabet Vegetable Soup
A close relative to Spaghetti O's, a can of Alphabet Soup was one of my first meals I could make for myself as a kid. Pop open the can, zap in the microwave and BAM – I just made myself lunch! At 9 years old, I was pretty impressed by my accomplishment but I didn't realize I was eating a ton of fillers and sodium. In my mom's defense, she didn't either – these were the pre-label reading days.
Typically, kids aren't going to be thrilled if you tell them they are having vegetable soup for dinner. That being said, kids LOVE eating letters! As parents, we need to make sure we don't deprive them of that opportunity. This homemade version of Campbell's Alphabet Soup is adorable, healthy and totally kid friendly. Of course, you can always use any shape of pasta you have on hand but the fun factor is seriously amped up if you can find alphabet pasta.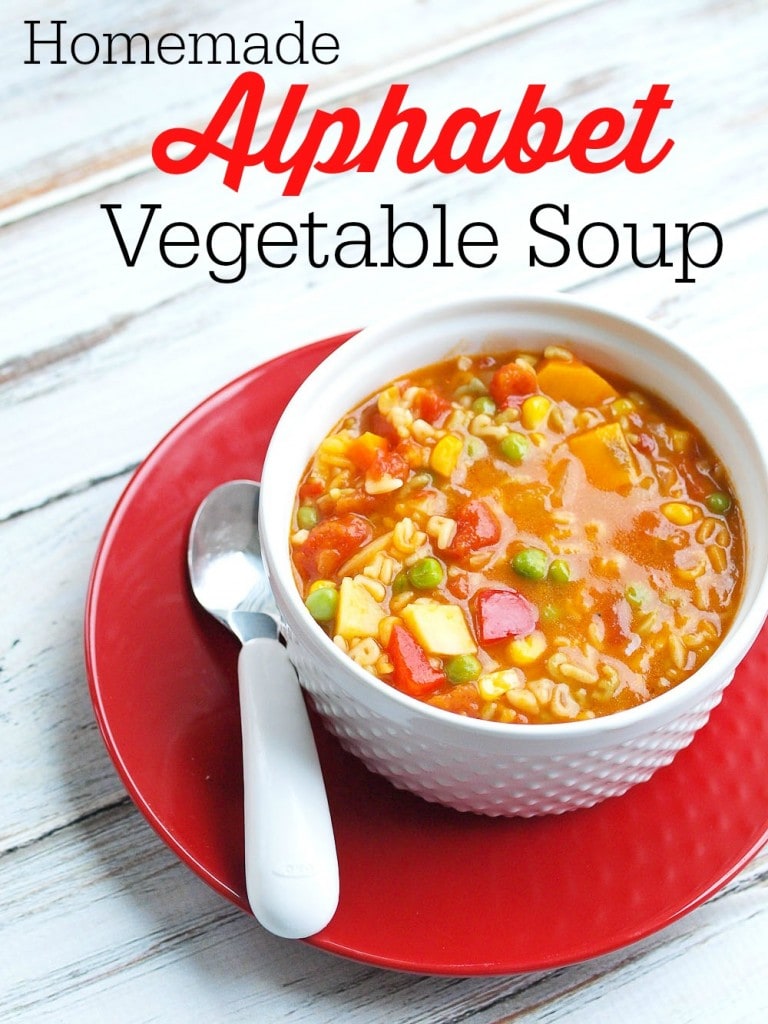 Look Again Alphabet Vegetable Soup from Happy Healthy Mama
Miso Alphabet Soup
One of my goals as a parent is to expose my kiddos to a variety of foods and flavors. Recently, we went to a Japanese restaurant and my kids LOVED the miso soup. Unfortunately, the restaurant is about 40 minutes from our small town, so I needed to find a version that I could make at home for them to enjoy. This is one of the best kid friendly soup recipes to add some diversity to your meals.
Similar to the recipe above, this miso soup version has playful alphabet noodles to make it fun and accessible to newbies. Miso adds the perfect umami flavor, but it is also incredibly nutritous. It's a complete protein, boosts the immune system, lowers cancer risk and blood pressure, and aids digestion. You can find White Miso here, if your grocery store doesn't carry it. #smalltownstruggles

Miso Alphabet Soup from The View From Great Island
Turkey Chili Macaroni Soup
One of my super simple tips to increase the health factor of our family meals is to substitute ground turkey for hamburger when possible. While, I do eat red meat – high cholesterol and heart disease run in my family so it's important to eat mostly lean meats. This Turkey Chili Macaroni recipe–saves you a bunch of calories and fat, plus the kids will have no idea. (Pssst – neither does my husband). This recipe is hearty, filling and heart healthy.


Turkey Chili Mac from Laurens Latest
There you have it mama! Eight quick & kid friendly soup recipes. Perfect for busy weeknight dinners when you need something to satisfy the whole family.