Whether you are looking for design inspiration or are in need of some motivation to declutter your playroom these images are sure to satisfy. Below you will find tons of creative and clutter-free minimalist playrooms. Take a look!
Minimalist Playroom Ideas
Let me guess…
The toys are taking over your house?
Isn't it funny that you create a playroom to keep the toys contained, yet the toys end up spread all over the house?
Well, hopefully you've realized that the problem is that there are simply too many toys.

And ya know what?
Having tons of toys doesn't just prevent you from having a calm and clutter-free home, it also can cause "TOO MANY TOYS SYNDROME" in your children.
So, even if you just like the look of a minimalist playroom, I promise that you will love the added benefits that purging the toys will provide.
Simple Playroom Decor
This post may contain affiliate links for your convenience. We only include brands we use and trust. See the full disclosure in the privacy policy.
Let's take a look at some gorgeous yet simple minimalist playrooms to get inspired:
Montessori Inspired Playroom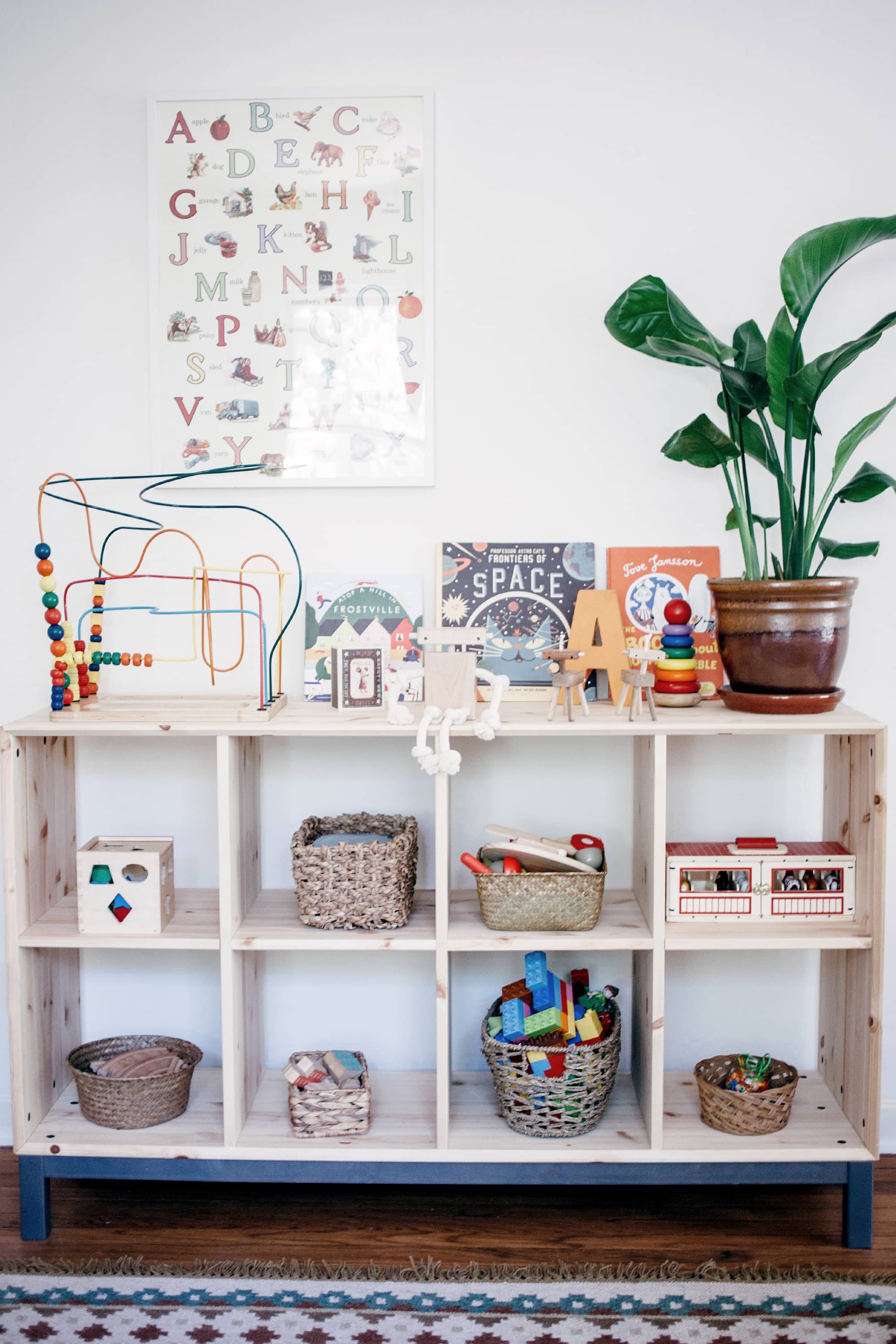 This first space is quintessential Montessori minimalism: wooden toys and organization that are perfect to inspire self-directed play.
Shop the Room
As you decrease the amount of toys and clutter, you increase a child's attention and capacity for deep play – Kim John Payne (Simplicity Parenting)
READ THIS NEXT >>>> Top 10 Essential Minimalist Toys
Simple Modern Playroom
What's not to love in this playroom?
Tons of monochromatic storage bins to keep the toys and books neat and tidy.
This space is super kid-friendly but also modern and cool enough to do double duty as an office or guest room.
Shop the Room
Neutral Playroom Decor
Inspire creativity and fun with a simple chalk paint wall.
This look can easily be created with a little imagination and some painter's tape.
In the playroom below, notice the invitation to play.
The table and chairs are available for tea parties, doctor's visits or to be used a check out stand at a grocery store.
At the same time, the chalk paint on the wall inspires creativity and imagination.
Shop the Room
Natural wood elements, like the lampshade and baskets create warmth and add texture to the room.
Even with the color of the bookshelf and the rug, the wood elements help to create a cozy and relaxed feeling.
Shop the Room
Loving this neutral play space. The layered rugs provide comfort and encourage play on the floor, while the fort is always a good choice!
Tons of open space and room to create and play are essential to creating a minimalist playroom that your kids will love.
Notice the natural light?
It's perfect for creating shadow puppets or watching the clouds go by.
Black and White Playroom Ideas
Plenty of toy storage and a generous work space help to create a playroom that will grow with the kids.
This playroom could easily be used as a homework station, or even a home-school classroom.
Shop the Room
This combination of black, white and grey with natural wood accents it timeless and absolutely gorgeous.
It also allows the space to easily transition as the children grow.
You could even place labels on each of the bins to help encourage independent clean up.
Add some kids-safe plants for them to take care of and serve as the jungle back-drop to their safari adventures.
Simple IKEA Playroom Ideas
This whimsical playroom would put a smile on any child's face.
The colorful storage bins from IKEA and the bunting make the space bright and cheerful.
This room proves that minimalism doesn't have to always be black and white.
The careful use of color creates a cheerful space without being visually distracting.
Shop the Room
Loving the practical and easy-to-access toy storage at the perfect height for the kiddos.
Shop the Room
Minimalist Industrial Playroom
Get creative with multi-purpose seating that is comfy and colorful.
Display toys on shelves to inspire play and make clean-up super easy.
Shop the Room
Looking for more MINIMALIST IDEAS FOR KIDS?
Colorful Minimalist Playrooms
This play space is bright and open.
Love the pops of color; playful without being totally overwhelming.
The hanging chairs create the perfect space to read a book or cozy up with stuffed animal.
READ THIS NEXT:
There you have it mama! Tons of great ideas to inspire you to create a minimalist playroom in your own home!
Aren't You Just Loving These Minimalist Playroom Ideas?