Our Primary.com Clothing Review 2023: Mix and Match Basics We Love
Primary Clothing review: When it comes to buying kids clothing most moms have the same priorities: comfort, style, quality and affordability. I recently discovered Primary Clothing and was happy to discover that it checked all the boxes! If you are looking to take the stress out of your kids getting dressed they've got what you're looking for.
Why I'm Loving Primary Kids Clothing
First, let me give you a little background info:
We live in a very small, rural town where shopping is limited (read: Walmart)
Since my kids were born I have been driving 30 miles away to an outlet mall where I could find great prices on children's clothing at The GAP and Gymboree.
Get your free guide!
Feeling stuck in a dinner rut?
Check out our 100 Quick and Easy Dinner Ideas! We have everything you need to ensure your weeknight dinners are delicious – without all the stressful planning and prepping beforehand!
Then guess what happened….
Both of them CLOSED! I was absolutely devastated. I honestly didn't know what I was going to do.
On top of loving the style and prices available at those stores, I had another challenge I was dealing with…
You've heard of a picky eater right? Well, I have picky dressers!
My oldest child has struggled with tactile sensory issues since she was a toddler. Tags, clothes that are too loose or rough inside tend to send her into meltdown mode.
Because of this we are constantly on the look for comfy and tagless kids clothes.
At the same time, my youngest is focused on style. This is a great creative outlet for him, but I am often horrified to see what sort of "looks" he puts together.
To keep things from getting too crazy I prefer to buy easy to coordinate mix and match pieces so he can easily pull off a coordinated look all on his own.
Lastly, as a minimal-ish mom my goal is to create kids capsule wardrobes to make it easy for them to get dressed, keep their rooms clean and have less laundry for me.
(at the bottom of this post I have a video about creating a Kids Capsule Wardrobe if you are looking to learn more)
Enter: Primary Clothing for babies, kids and grown ups!
Why Moms are Loving Primary.com
As moms, we all have to stick together.
That means that when we find something that makes life easier – we tell each other about it.
That's why I decided to write this review.
I am going to go a little in depth on the first three topics for my review of Primary Clothing.
After that, I will just briefly cover a few more factors to help you decide if Primary would be a good choice for you.
Let's dive in:
Quality
The fabrics used are soft yet sturdy. Like soft enough to feel comfy and cozy, but durable enough to keep up with busy kids.
When we received our first order I immediately noticed the strong stitching on the leggings. My son's t-shirts are still holding up after months of weekly wearing, washing and typical little boy shenanigans.
Their clothing is constructed with OEKO-TEX Standard 100 certified fabric which has been tested for over 300 chemicals to ensure it poses no risk to human health and have a skin-friendly pH level to protect skin from irritation.
We made our first purchase months ago and every single item is holding up well against wear and tear.
Simplicity
Seriously, clothing from Primary.com makes life SO much easier.
First of all, going shopping with young kids is not fun.
THEY FUSS
THEY BEG
THEY DON'T LIKE TRYING STUFF ON
No more loading in and out of the car as you go from store to store searching for something that they like and that is available in their size.
(Is it just me, or are your kid's sizes always sold out?)
The moms behind Primary.com make shopping online easy by limiting the number of styles on their website.
No more scrolling through pages and pages of clothes only to find that the style you want isn't available in the size you need.
They make it simple and streamlined.
Plus, the limited styles means your favorites are always in stock.
You understand how important this is when your kid finds their "favorite" leggings at Target, only to have them be unavailable the next season.
No tacky characters, cheeky slogans or fast-fading trends (ie: No poop emojis here) Just colorful and easy-to-coordinate basics that kids and moms will love.
If you are thinking about creating a kids capsule wardrobe, Primary should be your first stop.
All the items are so easy to mix and match that your kids will be able to dress themselves. Ultimately, this saves time and makes getting out of the house in the morning a little bit easier.
Affordability
This one is HUGE for me. It didn't take me long to realize that spending a ton of money on children's clothing is a waste of money.
Kids grow so fast and are so rough on clothing that it just doesn't make sense to buy expensive stuff for them.
At Primary.com all the basics (t-shirst, leggings, shorts etc) are available for under $25.
But wait- that is still pretty pricey in my opinion. Luckily you can almost always find that they are having a sale.
Plus, I am going to let you in on a few secrets to save even more!
First, you can save 20% off your first order PLUS FREE SHIPPING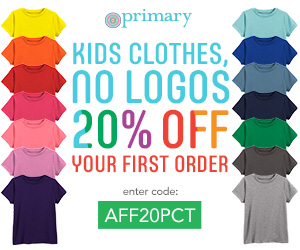 If you want to save even more (like I did) sign up with BeFrugal. They offer a 10% cash back program on Primary.com purchases and an additional $10 cash back bonus once you reach your first $10 reward.
BeFrugal also offers cash back bonuses on tons of other items you are already buying – if you haven't heard of them be sure to check it out
My last tip to save even more money when shopping at Primary is to shop ahead.
This is the same strategy that I use to shop for all my kiddos clothing and it saves so much and just takes a little planning ahead.
The best deals are always available on the SALE or CLEARANCE page,
I know these items are typically end-of-season sales, meaning that in August all the summer clothing is going to be on sale.
But don't worry! You're not too late!
Instead of feeling like you missed out, purchase one size up and grab these deals for next year!
My kiddos typically go up one size each year, so I know what size they will be wearing next summer and I grab those deals now.
By shopping ahead you can score and only pay a fraction of the price.
You can check out their current sales and clearance items here,
Plus, this allows you to try out the clothes to see if you love them as much as I do for the lowest price possible.
Ok, so that was the meat and potatoes of my review of Primary Clothing for kids. Here are a few more highlights that you might be interested in:
Style
I would describe their clothing as classic, vibrant and kid-friendly.
No tacky or trendy looks here. Instead, you will find mix and match pieces that you can combine or layer to create adorable outfits.
In my opinion I would compare the style to The GAP, Banana Republic or J. Crew (but for kids).
The fun is the "rainbow" of colors they have available for you to choose from.
You can create a countless number of looks by selecting from the solids, stripes and dot patterns they have available.
Fit
I found the fit to be true to size. Both of my children are long and lean, so they both usually wear a size down for their age.
The size 4-5 classic T fit my 40 lb son perfectly. The length was perfect, hitting just at his hips (long enough to tuck in, but doesn't look sloppy if he leaves it untucked) and not too boxy.
The size 7 classic leggings were a hit with my 50 lb daughter. They fit great in the waist, which is usually a problem area for her because she is quite narrow.
The only issue with the leggings were that they were a bit short for her – but she does have REALLY long legs. The leggings fit her more like capri's which was ok, because it was summer but she will only wear them with boots in the winter. The actual capri legging hit her just below the knee.
Overall, my kids loved the fit of the clothes we purchased from Primary, but as I mentioned my kids are quite slender.
If your children are on the "sturdy" side I would definitely refer to the sizing chart and maybe go a size up to make sure they are able to have good movement in the clothes.
Gender Neutral
I grew up in a family of all girls. It was totally normal for clothing to be passed down to each of us (we have the photos to prove it)
One of the bummers about having a boy and a girl is the inability to save money with hand-me-downs.
An unexpected benefit that I discovered when we started shopping at Primary was that the uni-sex clothing could be passed down from my daughter to my son.
Free 90 Day Returns
Seriously – they give you 90 DAYS!!!
That is 3 months to take advantage of their free return policy. They provide you with a pre-paid shipping label so all you need to do is drop it off to ship.
Please note that clearance items are not included, as they are considered "final sale".
The only bummer – No Jeans!
Ok, the only things that Primary.com doesn't offer that I believe is a wardrobe basic is jeans. They do offer chinos, but we live in the country and jeans are what my kids wear to school if they aren't wearing leggings or sweatpants. Maybe in the future they will add denim to their styles.
***UPDATE July 2019****
Just this week, Primary.com announced that they now offer jeans!
I would like to think it was due to my suggestion, but I am sure that jeans have been a popular request.
Consistent with the rest of their clothes, their new denim line is comfy and cozy. Their jeans offer all around stretch, adjustable waistbands, no tags and a no-dig waistband.
Plus they are made from 27% recycled polyester – using over 2 recycled water bottles per pair of jeans. How cool is that?
In Summary: My Review of Primary.com
If you are looking to simplify shopping, make it easier for your kids to dress themselves or to create a kids capsule wardrobe then you will want definitely want to try Primary.com
In my experience, I was impressed with the style, quality and durability of the clothing.
I love that the clothes are free of tags, embellishments, characters and logos; perfect for children with sensory issues, tactile sensitivities and special needs.
It also just makes the clothing more comfortable and avoids the ins and outs of trends.
By shopping the sales and taking advantage of their coupon codes you can save even more and dress your children in high-quality and colorful classics all while shopping online.
Now…if only they would create a line for busy moms!
Primary Kids Clothing FAQ's
Does Primary clothing run big or small?
In my experience the clothing runs true to size, but runs slim. My kids are very slender compared to their peers the same age and weight and Primary clothing fits them perfectly.
If your child is thick or wide for their weight I would suggest sizing up.
Personally, I like to get my money's worth out of the clothes I purchase and if you purchase according to their sizing chart the clothes will fit when they arrive but the second they put on a few pounds or sprout up and inch the clothes will be too small.
Is Primary clothing ethical?
Ethical fashion covers a wide range of topics and considerations including production, manufacturing, labor laws, sourcing and environmental impact.
On the Primary website certain styles of their clothing are marked with their "sustainable symbol" to let shoppers know which products meet their highest ethical and sustainability standards.
Beginning in 2020 Primary began transitioning all of their cotton rib styles and manufacturing them using Certified Organic Cotton.
They currently manufacture their products in Vietnam, India and China. Every facility producing Primary's clothing is approved by a certified third party inspector and must be compliant with ethical manufacturing processes.
Do clothes from Primary.com shrink?
All of their styles are pre-washed, but they recommend washing in cold water and drying on low to avoid shrinkage since many of their products are cotton.
Do they charge for shipping?
All orders over $35 get free shipping, otherwise standard shipping is $5.
A Primary Clothing Review; Quality Kids Clothes at an Affordable Price


Get your free guide!
Feeling stuck in a dinner rut?
Check out our 100 Quick and Easy Dinner Ideas! We have everything you need to ensure your weeknight dinners are delicious – without all the stressful planning and prepping beforehand!