You want to love your kitchen, but the clutter is making it next to impossible. Take a tip from a minimalist and learn how to declutter your kitchen so you can be happy in the heart of your home.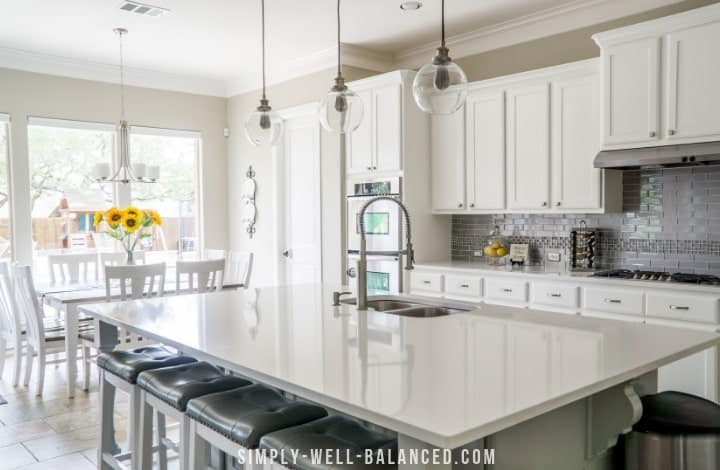 Your Guide to a Minimalist Kitchen
It's Day 3 of the Happy Simple Home – "Declutter your Life" series and today we are tackling the kitchen.
You can check out the previous posts in the series here:

Day 1: How to Declutter your Bedroom so it Stays That Way
Day 2: How to Declutter your Clothes Closet; For Real This Time!
Day 4: How to Declutter Kids Toys and not Destroy Their Childhood
Day 5: How to Declutter Your Mom Brain
For most of us the kitchen is the hub of the home. It's where we meet up in the morning and gather in the evening.
The kitchen isn't just a space to prepare meals.
In our home the kitchen is so much more:
A place to reconnect with my spouse after work
Where I pass down family recipes to my children
The perfect classroom for teaching the importance of teamwork as we cook and clean as a family
And where we laugh with friends over cocktails and appetizers
If your kitchen is cluttered and messy there is a good chance that you are missing out on all of these opportunities.
I know because I avoided the kitchen for many years. I hated coming home from work and heading to the kitchen for what seemed like my second job: cooking, cleaning and washing dishes was all that took place in there.
All that changed when I finally decluttered and organized my kitchen.
Now, everything is easy to find and to put away.
The counters are cleared off and ready to host a homework session or roll out a pie crust without having to clean up first.
Using minimalist tips you can create the neat and tidy kitchen of your dreams too.
This post may contain affiliate links for your convenience. We only include brands we use and trust. See the full disclosure in the privacy policy.
Questions to Ask While Decluttering Your Kitchen
Before you get started it's a good idea to think about the end goal.
Envision your dream kitchen (or look at pictures of it on Pinterest) and notice how neat and tidy it is.
Keep this vision in your mind as you begin to declutter and discard items. Inevitably you will come across items that you are not sure whether or not they should be kept.
When that happens ask yourself these questions:
1) Do I use this daily, weekly or monthly?
Anything that you use frequently is worth keeping. However, if you only use it a few times a year or once every few years it's probably time to go.
But, what if you need it? You can always buy one then sell it online or borrow one from your neighbor.
2) Is this a duplicate?
Do you really need more than one fork? Of course! But you probably don't need three rolling pins….
3) Would I buy this again?
Let's say you come across an item in your kitchen that you don't hate…but you don't love it either. Ask yourself if you had the cash in your hand right now would you buy the item again or save your money instead. If the cash wins – the item probably isn't worth keeping.
4) Does it make life easier?
Yep? Then keep it! I am all for anything that helps to simplify or make life easier. Do you really need an electric can opener if you have a manual one? No, but if it makes your life easier than keep it! We have enough struggle in our lives already.
12 Steps to Declutter your Kitchen like a Minimalist
Alright! Here we go – tons of great tips and tricks to create a clutter free kitchen in no time!
Toss mismatched Tupperware
Anytime I work on a project I like to start with the easy stuff. Mismatched Tupperware is anything without a matching partner. No lid? No bottom? No problem! Gather them all up and off they go. Check the bottom to see if they can be placed in the recycle bin. That's a great guilt-free way take care of them.
Downsize Silverware
Growing up our silverware was a hodge-podge of different sets my mom had acquired over the year. The end result was that we had enough forks for our family of four to eat for two weeks without running out.
Go through your tableware drawer and remove any that don't match your set. You can also determine how many forks, knives and spoons you actually need to keep. For our family of four we decided to keep 8 of each.
This leaves enough if we have guests over, but not so many that our drawers are cluttered and busting at the seams.
Ditch the Duplicates
Four rolling pins? 10 mixing bowls? 47 coffee mugs?
Come on now…you really don't need all of those! Go through and pick out your favorites or the ones you use frequently and donate the rest. There is some young couple out there who needs them!
Get rid of single purpose utensils, appliances and gadgets
When it comes to streamlining your kitchen multi-purpose items are the way to go. Unfortunately, we are easily tempted by fun novelty gadets like cake-pop makers, waffle-stick makers and quesadilla makers. Ultimately, these items take up space and aren't used very often.If an item you own can only serve one purpose in your kitchen it's probably worth letting go.
Clear your Counter Top
It's amazing how a cleared off counter can quickly create a clean kitchen. All you need is a few simple solutions to keep items off your counter:
Use wall hanging baskets to store fruit
Keep mail and other papers organized inside a drawer
Store any appliances that you don't use daily in a cupboard or pantry
Use cabinet organizers
A cupboard, pantry or cabinet can quickly become cluttered when everything is stacked on top of each other. It's also not very user friendly when the item that you need is on the bottom of the pile.
Cabinet organizers that create different levels are a quick and easy solution. They allow you to use all the available vertical space in your cabinet. Now you can quickly find what you need without having to unpack the entire cabinet.
Streamline Cleaning Supplies
If your cleaning supplies are cluttering up the area underneath your sink…or maybe even more space than that – it's time to narrow it down.
Recent studies show the dangers of toxic chemical household cleansers and disinfectants.Luckily, most of the cleaning supplies you need can be found in your pantry. Vinegar, baking soda, salt and plain old water will do the trick most of the time. Otherwise you can try a natural all-pupose cleaner.

I wouldn't recommend throwing away toxic cleaners, so just get rid of them as you use them up. You can check with your local waste disposal to see if they have a program for household chemicals.
Keep the Fridge Clear
The fridge seems like the perfect place to post children's art, reminders, coupons and funny magnets. However, removing all these items will instantly make your kitchen look more clean and organized.
Keep up on the dishes
A counter or sink full of dirty dishes is definitely not the look you are going for.
A simple tip to keep up on dishes is to always empty the dishwasher as soon as the cycle is over. That way it's ready to accept any new dirty dishes straight-away. Leaving you no excuse to put them in the sink, when they can go straight in the dishwasher.
Maintenance clean while you're cooking
It may sound strange, but my favorite time to declutter the kitchen is while I am cooking.

Organize the spice cabinet while the water is boiling
Wipe down the fridge while your lasagna is in the oven
Put away the clean dishes while your chicken is browning
Purge the fridge and pantry before you grocery shop
Nobody loves coming home to put away the dishes. It's even worse when you get home and realize your pantry and fridge are full of food that still needs to be eaten….or is expired.
I started saving a ton of money when I began cleaning out the fridge and pantry before I went shopping. That way I know exactly what I am out of and need to replace. It also is a quick and easy way to see which ingredients you have on hand to help with meal planning for the upcoming week.
Meal Plan
Even food clutter is still clutter. When you have too much it's a challenge to keep things clean and organized.
Instead, use a meal plan so that you don't have a bunch of food sitting around that you aren't using.
Meal Planning helps to keep the fridge and pantry neat and tidy. It also helps you to save money by only buying what you need for the meals you have planned.
Speaking of meal planning – here is a great way to get started! An awesome meal planning guide from Meal Planning BluePrints.
There you have it! Tons of tips to help you have the neat and tidy kitchen of your dreams!