Your bedroom is the place that you begin and end each day. If it is disorganized and full of clutter you will have a difficult time relaxing and resting in your space. Learn how to declutter your bedroom so that is easy to keep neat and tidy.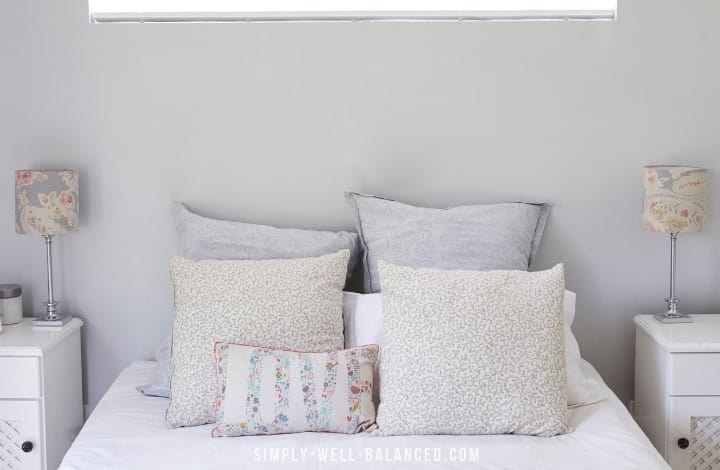 How to Declutter Your Bedroom: Happy Simple Home Series
Welcome to Day 1 of the Happy Simple Home Series to help moms learn how to declutter and simplify in order to enjoy motherhood more.
For the next 5 days I will be sharing my best tips to help you control the major causes of clutter in your home and life. Each post is full of practical tips to make mom life easier.
Day 2: How to Declutter your Clothes Closet; For Real This Time!
Day 3: How to Declutter your Kitchen Like a Minimalist Mom
Day 4: How to Declutter Kids Toys and not Destroy Their Childhood
Day 5: How to Declutter Your Mom Brain
Today we are kicking things off with tips to tackle the clutter in your bedroom.
It's easy for your bedroom to become the "junkyard" of our daily activities.
Laundry, bags and random items can quickly begin to take over if you are not intentional.
If all you see when you enter your bedroom is clutter, clothes, and things that need to be picked up it can be hard to relax and switch off at the end of the day.
Why you need a clutter-free bedroom
Have you ever noticed how relaxed you feel when you come home to a clean house?
Well, there's a reason for that.
When you look around and see a visual to-do list of items that need to be folded, picked up and put away it's difficult to relax.
And guess what, decluttering your bedroom has a lot of benefits beyond just making it look nice.
Punctuality – Have you ever been late out the door because you couldn't find something to wear?
Take back all the precious time have spent looking for the lost shoe under the bed or the scarf that fell to the bottom of your closet.
When your room is clean and organized you will be able to find everything quickly. Consequently you will be able to get ready and head out the door on time.
Better mood – Waking up to a neat and tidy bedroom will help you to start off your day on the right foot.
Productivity – In his book, "The Power of Habit" the author shares that, "An organized environment creates a feeling of preparedness and control." These feelings increase your ability to face the day with optimism and face daily tasks head on.
Increased joy – It may sound silly, but keeping your bedroom clean and organized can have a major impact on happiness. When researchers tracked the most impactful habits related to happiness – bed making was one that was consistently mentioned.
As you can see, a clutter-free bedroom is well worth the few minutes a day that it takes to maintain.
This post may contain affiliate links for your convenience. We only include brands we use and trust. See the full disclosure in the privacy policy.
Tips on Decluttering your Bedroom
Before you go whole-hog decluttering your bedroom, pause and take a moment to assess it's current situation.
This will allow you to note where you struggle with bedroom clutter the most.
Stand at the doorway and do a quick scan, maybe even snap a few photos with your phone. (This will also make a fun before and after possible).
As you look around be sure to jot down your most troublesome areas:
Is there a laundry pile on the floor?
Perhaps the nightstand is a disaster.
Do you have clothes from last week that still need to be hung in your closet?
Does the furniture create an open and airy feeling , or is it chunky and stifling?
Now that you know your personal pitfalls, keep them in mind while you move forward through the decluttering process. Look for specific solutions in this article that address your exact needs.
For most of us, the hallmark of a cluttered space is the overabundance of items that we no longer need or use.
When it comes to our bedroom this typically means clothing, decorative items or paperwork.
As you did your initial scan of your bedroom which of these was the most glaring in your space?
Start there!
Grab your free Bedroom Declutter Checklist in our Printables Library!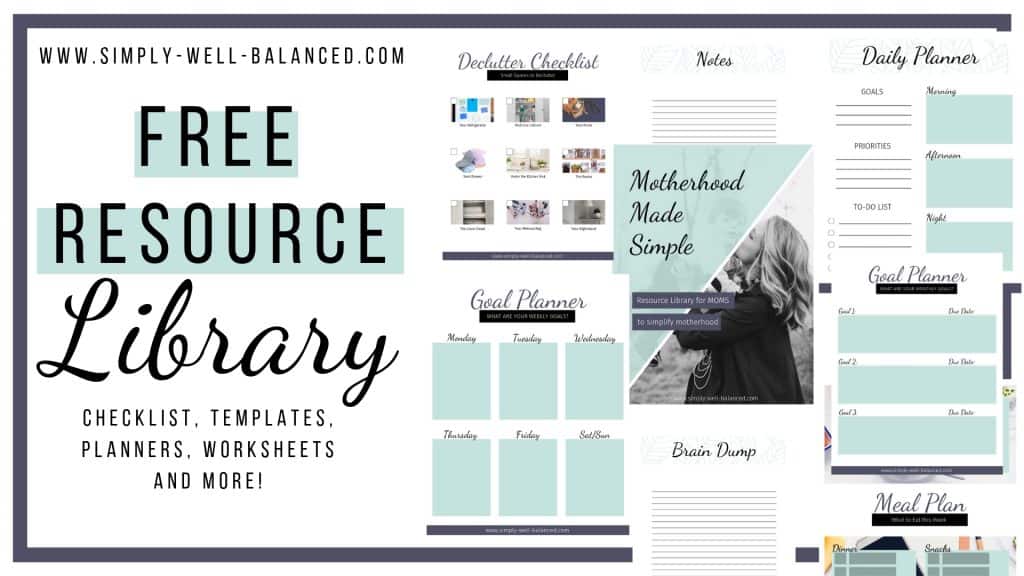 How do you declutter your bedroom?
You wanna know the most important step you can take to having a bedroom space that you love and is free of clutter?
Just get started!
Below are dozens of tried-and-true methods to keep a messy bedroom at bay.
Purge using the Three Box Method
Kickstart your decluttering session by setting out three storage boxes labeled:
Sell

– This box is only for items that are actually worth the time and effort to sell. Determine an hourly rate that you think your time is worth and calculate how much time it will take for you to prep the item, post it for sale and meet the person to complete the transaction. If the item will give you a good return on the time you invest than it should go in this box.



Donate – Items that still function and hold value, but are no longer used by you should be placed here.

Trash

– Anything broken, torn or beyond its useful life should be tossed.
The key to success with this method is to set a time limit on each of the boxes.
The box of trash should be thrown out TODAY. The items in the donate bin should be taken care of WITHIN THREE DAYS. Anything you plan to sell would ideally be sold within ONE OR TWO WEEKS if not sooner. Otherwise, the items will just continue to be clutter!
The items in the donate bin should be taken care of WITHIN THREE DAYS. Anything you plan to sell would ideally be sold within ONE OR TWO WEEKS if not sooner. Otherwise, the items will just continue to be clutter!
Related Post: How to Create a Cozy Minimalist Bedroom
Put your shoes away
Any shoes scattered around your room are going to be a contributing factor to the clutter you are trying to avoid. Use a shoe organizing system to ensure a clear and organized place for your shoes to go when they are not being worn.
Hang up your clothes
Hanging your clothes in a closet will keep your room clean and make your life easier.
I have found that my rooms stay much more tidy and I even hang up my casual clothes.
Also, I have managed to avoid using an iron for my daily wardrobe for over two years by simply hanging my clothes as soon as they come out of the dryer.
Hanging is also the recommended storage method for most types of clothing other than bulky sweaters and heavily beaded items.
PRO TIP:
To make this strategy a "no-brainer" keep a stack of hangers next to your dryer.
As soon as the cycle is over, remove the items from the dryer and hang them immediately. Then transport them to your closet.
You will be amazed at how much this helps to keep laundry clutter from taking over your bedroom.
Remove unnecessary furniture and decor
Close your eyes and imagine your dream bedroom. Most likely, it's not packed with bulky dressers, nightstands and cluttered with decorative items.
Huge progress can be made when you take a practical look at the furniture in your bedroom and remove anything that is not essential.
Clearing and creating space is an imperative step in making a room look and feel clean and clutter-free.
Same goes for the walls and items on top of flat surfaces.
Pretend that your bedroom is an Ikea inspiration room (Do you love those as much as I do?).
Take a look around as if you were shopping.
Which items do you love so much that you would choose to purchase them again today? Anything that doesn't pass this test should be donated or sold.
Edit your accessories
I have to admit, even as a minimalist scarves, jewelry and handbags are very tempting.
But the reality is they can quickly take over a closet…and even the rest of your room if you're not careful.
To start, quickly go through and remove any that you haven't worn in a year or that you have duplicates of.
Moving forward, use the one-in, one-out rule. This means that if you buy a new bag or scarf then one that your currently own needs to go.
Keep the floor clear
If there is one hard and fast rule to follow, it's to make sure you don't allow anything to pile up on the floor.
When you set this expectation for yourself you will find that taking a few moments to put items where they belong (instead of dropping them on the floor) saves you a ton of time and the stress in the long run.
Use drawer dividers
We have all heard that people who are tidy have a designated space for each item in their home.
Initially, I thought this was why we all have a junk drawer. At least that was my designated place for any random items I needed to put away. Right?!!?
Then, I discovered drawer dividers.
They are perfect for keeping bras, underwear and socks organized in the drawers. As well as, pens, paper, batteries and glasses inside your nightstand.
Voila' no more junk drawer and now everything has a designated place.
Utilize the space under the bed
Off season clothes, extra blankets and winter gear aren't things that you want to get rid of.
Instead of allowing them to create visual clutter in your closet, place them in low-profile storage bins and slide them under the bed.
Clear your nightstand
Promise yourself that you won't allow anything to be set on top of your nightstand.
I found the perfect nightstand that has space on top for a lamp and a drawer underneath store books, lip balm and a flashlight.
Keeping your nightstand and the top of your dressers clear of clutter will help your room look neat and tidy at all times.
And most importantly….
Be consistent
Please don't spend an entire weekend (or longer) decluttering your bedroom only to allow it all to creep back in.
Set aside 10 minutes each day to scan and pick up anything that has been left out while you are establishing your new "clutter-free" habits.
Eventually these habits will become second nature won't require any effort.
There you have it! Tons of practical tips to help you learn how to declutter your bedroom and keep it that way!