Summer is HERE folks! The kids are out of school and everyone is desperate to keep them busy (aka not watching YouTube ALLLLL day). Check out these creative printable summer schedules for kids that will keep you from hearing "I'm bored" every day.
Why you need a summer schedule template
Just a few weeks ago you couldn't wait for summer to arrive. In your mind you imagined tons of crafts, giggles, and outside time.
Now that summer has arrived the reality is:
The house is a mess

Your kids are fighting

They refuse to go outside

All they want to do is watch other kids play on YouTube!
Don't worry mama!
The crafts, giggles and outside time can still happen. You just need a routine.
Kids THRIVE on structure and routine. I know this is true because I see it with my own kids and the kids in my classroom.
Plus there is a ton of child development research that clearly shows the children do best when they have a predictable routine to follow.
Stick to a routine and life is good.
Break from routine and all the sudden you will see behaviors like whining, arguing and generalized grumpiness.
This is NOT how we want to spend the summer!
Luckily for you, I have done the research and have created a list of the best summer schedules for kids that will create enough structure while still allowing for flexibility and relaxation.
Awesome Summer Schedule Templates
One of the best parts of being a blogger is I get to solve my own problems and help other moms too.
That's how this post came about:
A few years ago, I switched careers and became an elementary school teacher. This meant I would have "summers off" for the first time since having children.
Well….
Three days into summer vacation it became very clear that we needed a routine.
I went online and searched for free printable summer schedule templates for kids and here are the BEST that I have found.
In order to be included the summer schedule templates needed to meet the following criteria:
Be fun

Include quality family time

Utilize a variety of activities

And help to develop social and academic skills.
So here they are!
Free Summer Fun Daily Schedule
Summer Activity Calendar for Kids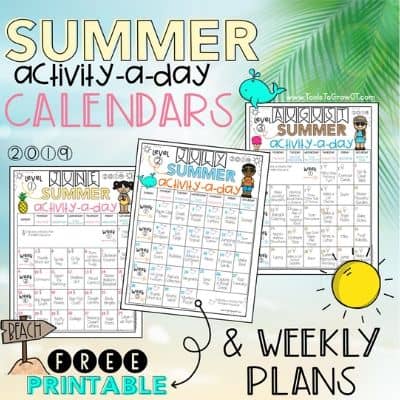 This free printable summer schedule is a wonderful resource from Tools to Grow; an online resource for Occupational Therapists (OT's help people gain skills for daily activities – like developing motor and social skills with kiddos).
The lists are available for different age ranges from preschool through 5th grade and above.
Here is a sample of what skills the children will focus on each day:
Monday: Fine Motor Skills

Tuesday: Sensory Fun

Wednesday: Visual Perceptual/Visual Motor Integration

Thursday: Handwriting

Friday: Gross Motor

Saturday: Around the House
As a teacher I can verify that these skills are very important and you will be greatly benefitting your child to work on these activities.
Summer Daily Schedule Template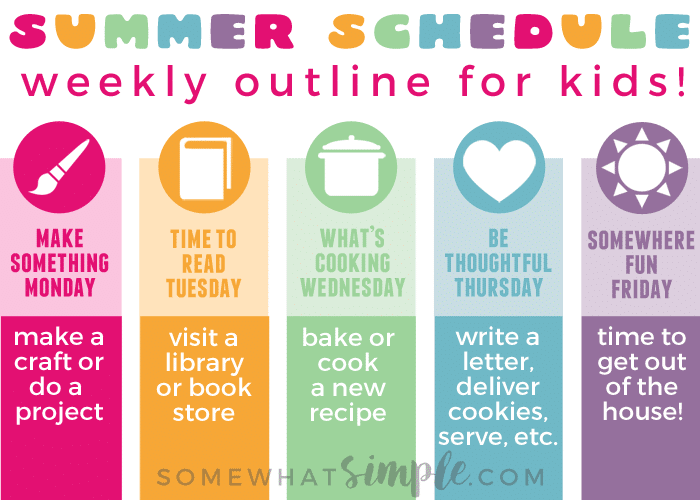 This free printable summer schedule for kids comes from Stephanie @ Somewhat Simple
This version is fantastic because you can put it in a picture frame from the dollar store or slide it into a sheet protector and write directly on it with a dry erase marker.
Each day is themed according to the schedule. The trick to this one is getting on Pinterest during the weekend and finding the activities that you want to do.
If you are like me, you don't have hours to search online for activities.
Instead, what I would recommend is that you repeat the same activity.
For example for "Time to Read Tuesday" your activity each week could be go to the library or story time at Barnes and Nobles.
For "Somewhere Fun Friday" you could go to your local waterpark or children's museum.
That way you don't get burnt out coming up with ideas to fill in the schedule.
Visual Kids Summer Schedule Cards

This schedule is especially helpful for young children or children with disabilities.
A little different from the two listed above; this free printable summer schedule gives you and your child a visual schedule for the entire day.
You can easily print the cards and put them into a pocket chart, or I loved the idea that she had where you simply use clothes pins to hang them onto a piece of ribbon.
You could also put them on the refrigerator with magnets.
Flexible Summer Activities for Kids
If you are like me, you want to incorporate a little more "go with the flow" for your summer schedule.
Then check out this Boredom Buster Bingo for Summer from A Dab of Glue will Do.
You can print it and have the kids X out or color in each square as the activity is completed.
Or you could put it in a sheet protector and give them a dry erase marker.
They also have some great suggestions like, having your children complete a row or "BINGO" every week or challenge them to finish the entire chart in a month.
Related Post: Super Fun Family Fitness Ideas
So there you have it mama….great resources to make sure you have fun with your kiddos and save your sanity at the same time.
We hope you enjoy these free printable summer schedules for kids!
We would love to hear from you! How do you keep your kiddos occupied and learning during the summer? Please share any tips below!
PS – Don't forget to share this with your friends!

Hope you enjoy these summer schedules for kids that will save your sanity!