In need of a few ideas for non-cake birthday treats? Maybe you just don't have time to bake a cake from scratch. Or perhaps you have someone who just doesn't like cake. No matter what the reason, these super easy birthday cake alternatives are simple to put together at a moment's notice.
Yummy Non-Cake Birthday Ideas
Guess what?
My hubby doesn't like cake….and if you are reading this post I am guessing you know someone who doesn't care for it either.
Truth be told, he didn't even want to have cake at our wedding, but I talked him into cupcakes purely on the practicality of price and ease of serving them.
Needless to say, when it comes to his birthday treat of choice, cake is never at the top of his list.
And now my kids are starting to follow in their father's footsteps!
Luckily for me (and you) there are a ton of alternative birthday cake ideas for adults and kids to enjoy.
I have created a list of some of our favorites from year's past below.
This post may contain affiliate links for your convenience. We only include brands we use and trust. See the full disclosure in the privacy policy.
Popcorn Cake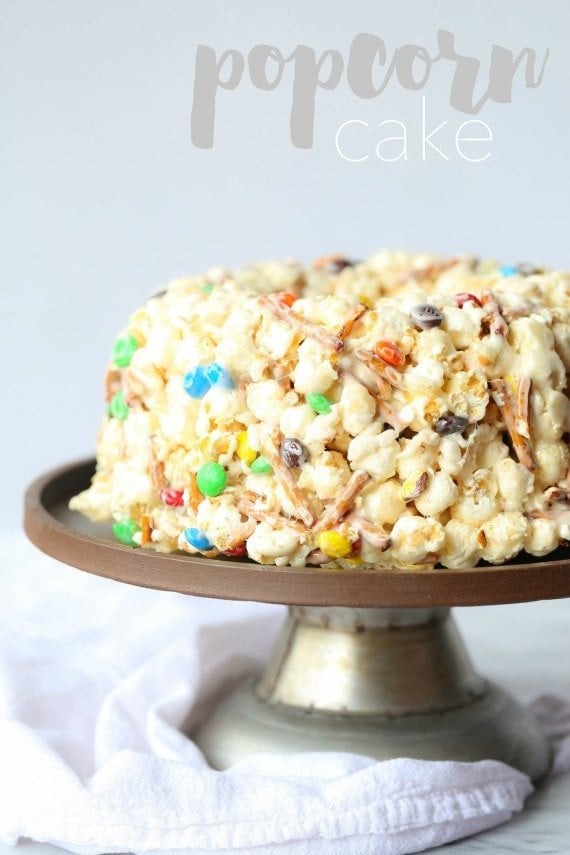 What's a popcorn cake?
Think rice krispie treat – only made with popcorn with lots of other yummy goodies packed inside.
Like a popcorn ball – on steroids!
Pure genius! And perfect for a celebration.
There are a couple of different versions of this easy birthday cake alternative you could try.
Popsicles
Popsicles make everyone happy!
I have worked with kids for almost two decades and of all the treats that I have offered over the years, popsicles have been the biggest crowd pleaser.
From first grader to grandparents, I haven't met anyone who will turn down an Otter Pop, Ice Cream Sandwich or a good Ol' Fudgesicle!
The options are absolutely endless and can easily match ANY dietary restrictions or birthday party budget.
Seriously, it can't get any easier than going to the grocery store and grabbing a bag or box of your kiddos favorite.
Making popsicles is also easy, it just takes a little planning ahead. Aren't these DIY Popsicles made with gummie bears and Sprite SO fun!
Ice Cream Floats
Ice cream and soda are a match made in birthday party heaven!
Toss a couple of scoops of ice cream into a cup and top it off with any flavor of fizzy soda.
There's always the go-to version made with Root Beer. However, you can also get creative with yummy flavor combinations like orange, grape or even strawberry.
Leave it as-is or make it super fancy and top them off with some whipped cream and sprinkles.
Here are a couple tips to make this idea score even more points:
Save yourself even more time by being prepared. You can easily scoop your ice cream into cups the day before or the morning of and store them in the freezer. The ice cream will even stay cold in a cooler with ice if you need to take them to a park or another party location. Simply top off with the soda when you are ready to serve.

Be eco-friendly and purchase re-usable cups to serve the ice cream floats in. They can also serve as the party favor for each guest to take home!
Slushies
Source: Brit + Co
Slushies are a sweet frozen treat that will fit in at any birthday celebration. All you need is ice, flavoring and a blender!
Easy birthday cake alternatives don't get any easier than that.
Better yet – give a slushie maker as the gift and enjoy a yummy treat anytime.
Donut Cake
Buy donuts and stack them pyramid style…Bam! Donut cake done!
I have seen this done with boxed donuts from the grocery store and with custom flavored donuts from a bakery.
Either way donut cakes make for super easy birthday cake alternatives that take only a few minutes to put together.
Giant Cookie Cake
My obsession with oversized cookies began at a restaurant chain that is famous for the "Pizookie". It's a large cookie baked in a deep cast-iron skillet that is served fresh from the oven with a scoop of ice cream on top.
Needless to say, it was love at first bite.
It actually didn't become an obsession until a genius server recommended that I order the half peanut butter, half chocolate chip cookie.
Ah-mazing!
The best part is that you can recreate that little blessing of a dessert at home.

The simplest way to replicate this easy birthday cake alternative is to pick up some pre-packaged dough at the grocery store.
Grab a tube of your favorite flavor and plop it into a greased cast-iron skillet. If you don't have one of those you can also use a glass 9×13 pan.
I highly recommend serving it warm with ice cream. However, I know there are some people who have more self-control than I do.
If that is the case, allow it to cool and you can use frosting to add some cute decorations or the guest of honor's name.
Here are a few more ideas to customize your creation:
Choose from a variety of boxed cookie mixes
Use pre-made sugar cookie dough which you could

Decorate with sprinkles
Add M&M's or other candies

Use your favorite homemade cookie recipe
More ideas to celebrate a birthday without cake
No Bake Cake Pop (bites)
Cake pops are delish! However, making them can take for-EVA!
When you are looking for an easy birthday cake alternative, you need something that can be made quickly.
Enter what I like to call the "10 Minute Cake Pop".
It was created when I really wanted a cake pop, but like, immediately. And, I was too lazy to drive to Starbucks.
Here are the steps:
Buy a bundt or loaf cake at the grocery store (chocolate or vanilla work best). These cakes usually only have a little bit of frosting or glaze on them.
Buy a can of frosting – whatever flavor you like.
Begin to crumble the cake into a bowl creating small crumbs. Add frosting until the cake crumbs hold together and you are able to form a ball.
Warm melting chocolate and dunk each cake ball to cover. Set on wax paper to harden. Done!
You will notice that even though I called these 10 Minute Cake Pops, I never actually put them on a stick.
That is because I have found that it takes too long.
Also, the sticks aren't cheap and you throw them away.
It's way faster, easier and cheaper to skip the stick and just pop the darn things right into your mouth.
Trifle Birthday Cake
By definition: British/A cold dessert of sponge cake and fruit covered with layers of custard, jelly, and cream.
Umm…hello, I just got hungry reading a definition!
Trifles are so quick to throw together. They make the perfect easy non-cake alternative for your party.
In order to make a trifle as quick and easy as possible, I recommend using a store bought Angel's Food or Loaf Cake.
While you're at the store you will want to grab your other ingredients which will most likely be pudding, whip cream and fruit or other goodies to mix in.
Simply layer everything in a bowl and be amazed by how something so easy to make can taste SO good!
Waffle Cake
This idea would be perfect for a birthday breakfast in bed. Create a tower of waffles, layered with whipped cream and fruit. You really can never go wrong by adding some Nutella in there somewhere too. Stick and candle in the top and you are all set!
Churros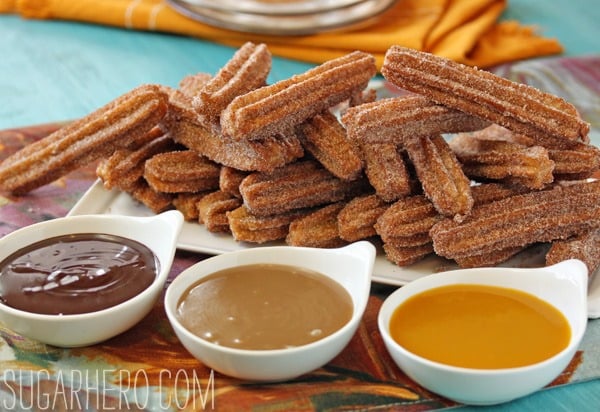 Churros make an excellent individual-serving birthday cake alternative.
You can typically find them in the frozen desserts section at your grocery store.
I also know a lot of Taco Trucks and Donut Shops (at least in California) have them available.
In order to kick it up a notch, you can provide some additional flavor combinations:
Serve them with a scoop of ice cream
Provide a variety of dipping sauces like fudge, or raspberry syrup and whipped cream
Which Easy Birthday Cake Alternative will you Choose?
There you have it mama! 10 super easy Birthday Cake Alternatives that you can put together in no time! I hope these ideas help you to have more time to enjoy the party and spend time with friends and family.
Read This Next:
How to Throw a Stress Free Kids Birthday Party
We would love to hear from you! What is your best kept secret for simplifying birthdays? Please comment below!
Delicious Alternatives to Birthday Cake