This post may contain affiliate links for your convenience. We only include brands we use and trust.
How we managed to start a blog without going absolutely insane
If you are addicted to Pinterest like me you have also noticed all of the blogger income reports being posted. For almost two years I have been amazed to see how many people are making thousands of dollars each month from their blogs. For two years I have pinned these images, read the posts and wondered, "Could I do that?"
After years of questioning my abilities I finally decided "IF THOUSANDS OF PEOPLE CAN START A BLOG – I CAN TOO!" Well, you are currently reading a post on my blog – so I was successful, but only because of the Launch Your Blog eCourse by Create and Go. Below I will share with you our How to Launch Your Blog eCourse review & tell you how it saved us from giving up on our dreams of starting a blog.
After a few days of brainstorming with my partner in crime (aka – husband) we came up with the concept for Simply-Well-Balanced. As debt free, simple-living, fitness professionals and parents this concept wraps up everything we are passionate and knowledgeable about in one little fabulous burrito of goodness. A few hours later and we had a domain name and hosting all set up. Wow! We were amazed at how easy that was and kept asking ourselves – Why didn't we start a blog sooner?
Well people, that is just about where the fun stopped. Although we were passionate about our blog niche, neither of us are experts when it comes to technology. We spent the next two weeks trying to understand all of these:
WordPress
Themes
Child Themes
Plug-ins
Alt Text
SEO
CSS
Javascript
HTML
And a bunch of other technical terms while trying to build our site.
If you already have experience with everything mentioned above, you probably don't need the course. However, we were completely lost at this point and didn't know what to do.
The email that changed everything
For two weeks we researched, watched videos, emailed tech support and started to get very overwhelmed. Still working full time and caring for our children – it was beginning to seem very unlikely that our blog was going to get to the launching point. There was just too much for us to learn and too much information to sift through. That is when I remembered an email I had received from Alex & Lauren a blogging team whose success I had been following. Thank goodness I remembered that email because their Launch Your Blog eCourse changed everything!
Alex & Lauren are the duo behind Create and Go (and Avocadu), who are helping other bloggers create the success that they are experiencing (like making over $30,000 a month and traveling the world!). After checking out a few of their courses I decided that we needed to start at the very beginning. We signed up for the Launch Your Blog eCourse – and just three days later we launched our blog!

After two weeks of struggle, frustration, and wasting an insane amount of time trying to figure things out on our own – they answered ALL of our questions and helped us to launch our blog in even less time than we had planned.
If you are thinking about starting a blog you NEED their help!
The course included help with everything we needed. And not just on the surface help either. Like step-by-step, hand holding videos that we watched on the edge of our seats! Now when we say everything we mean they cover EVERYTHING YOU NEED TO START YOUR BLOG; tips for wordpress, themes, plug-ins, content, images, pinterest, social media, opt-ins EVERYTHING!
The Launch Your Blog eCourse is set up with the goal to be completed in one month. Honestly, we devoured everything in the course SO quickly and easily that we flew through it in just 3 days. The videos are so clear!  All of their recommendations freed us from the hours of research and frustration we had experienced trying to launch the blog on our own. One month later our blog is growing in pageviews every day.  We have already started making money from the affiliate programs suggested in the Launch Your Blog ecourse.
Interested to see what is included in the course? Click here
If you are contemplating starting a blog and want it to be an easy, stress free and fun process you need to check out the Launch Your Blog eCourse. Without it, I don't think we would have launched our blog.  Even if we had, we would have made tons of mistakes and waisted major time.
***Update*** Recently I was interviewed by Create and Go about my experience with the course. You can watch the interview below. Please ignore my crazy face in the freeze frame 😉 EEK!
Launch Your Blog! | Create and Go
Our dream of starting a blog could was almost a nightmare
We are so excited to be realizing our dream of starting a blog and we owe it all to the Launch Your Blog eCourse from Create and Go! If you are thinking about starting a blog definitely take a look.  It is the only reason we didn't give up.  The amount of stress and overwhelm we felt before the course was an absolute nightmare. Luckily we found the course in time to kick the stress to the curb and get our blog launched quickly.
The course absolutely allowed us to maintain the balance in our lives that we have worked so hard to create. No stress, no overwhelm, no endless hours sitting in front of a computer. Because of the Launch Your Blog eCourse we have been able to launch our blog, see immediate growth in income, and still enjoy free time with our families – now that is Simply-Well-Balanced!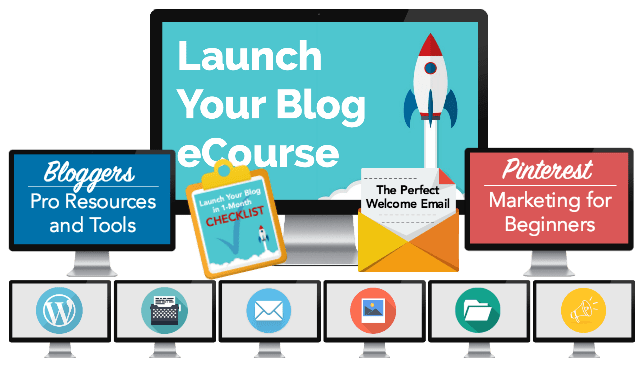 Please follow and like us: