Hosting a 4th of July party or heading to a Memorial Day BBQ? Then you will definitely want to check out these super easy no bake patriotic dessert recipes that make party prep a breeze. No Martha Stewart skills required here!
Super Simple No Bake Patriotic Dessert Recipes
Ain't no busy mama got time to spend hours in the kitchen on a holiday weekend making desserts! That is why I work hard to find recipes and party ideas with you that are truly simple. There are a lot of ideas that look easy, but result as Pinterest fails. No need to worry about that happening here. These easy no bake patriotic desserts are delicious and totally doable!
Related Post: Super Easy No-Bake Birthday Cake Recipes
Easy Fresh Fruit Dessert Flag

Source: Family Fresh Meals
This no bake patriotic dessert tray looks amazing and is just about the easiest thing in the world to throw together. All you need is a quick trip to the grocery store and a few minutes to wash and prep the fruit. I love this versatile serving tray that works great for desserts and meat and cheese plates.
To build:
Fresh blueberries, strawberries, raspberries and cherries
Yogurt covered pretzels
That's it! See I told you this was super easy!
Soda Floats



Source: Let's Dish Recipes
This year my daughter decided that she didn't want cake at her birthday party. Instead she requested soda floats! I secretly did a little happy dance because I knew that this would mean I didn't have to bake anything and it would take just minutes to put together.
Here are a few variations perfect for any patriotic party:
Strawberry and Blueberry Ice Cream with Cream Soda
Vanilla Ice Cream with Strawberry Soda
Vanilla Ice Cream with Blue Soda (Jones Soda Bubblegum)
All American Root Beer with Vanilla Ice Cream
That is really all you need, but if you would like to go all out you could pick up these adorable paper straws. Top the floats with whipped cream and Patriotic Candyfetti and you are ready to roll!
Red, White and Blue Fruit Kabobs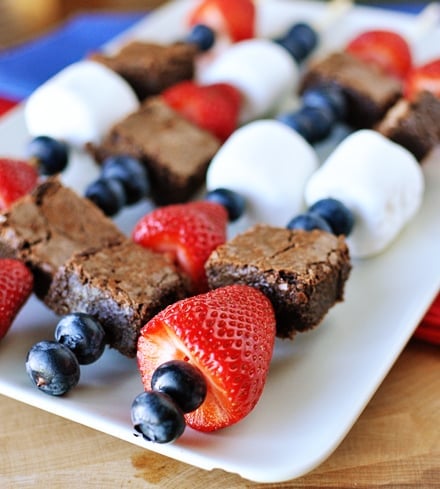 Source: Mel's Kitchen Cafe
This delicious and somewhat nutritious no bake patriotic dessert can be put together in just a few minutes.
First you need to gather your supplies:
Blueberries
Strawberries
Marshmallows (standard for skewers or mini for dessert cups…see below*)
Pre-made brownies from the bakery section of the grocery store
Skewers
Wash and prep your fruit then simply assemble the kabobs by alternating each of the ingredients in whatever pattern you choose.
*Personally, I prefer and even faster serving option for this dessert. It is also kid-friendly, since skewers make me nervous when little ones are involved. Simply substitute mini marshmallows in the ingredient list and toss all the ingredients into small plastic cups. Bam dessert done!
Patriotic Popcorn
Source: Online Labels
This All-American no bake patriotic dessert idea is fun and perfect for a crowd!
Here is your ingredient list:
Pre-popped popcorn. I like to use Boom Chicka Pop Sweet & Salty Kettlecorn
Seasonal red, white and blue M&M's
Mini marshmallows
Mini Pretzels
Simply toss all the ingredients into a large bowl and serve!
Red, White and Blueberry Trifle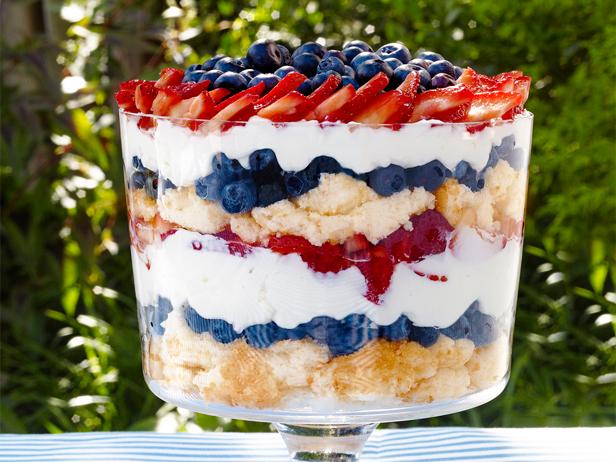 Source: The Food Network
If you are a busy mom, or you just don't love to bake you are going to love trifles. These no bake desserts are traditionally made by layering cake, cream, pudding and fruit. Yum-O!
Directions:
Find a serving dish that allows your guest to see the beautiful layers of the dessert. I love this amazingly versatile cake stand that turns into a beautiful serving bowl.
Create the dessert by alternating layers of

Pre-made Angel Food or White Sponge Cake from the grocery store
Cool whip
Strawberries, raspberries and blueberries
Instant Vanilla Pudding
I recommend making this dessert a few hours ahead of time to allow the cake to start to soak up a bit of the juice from the berries and the cream. Absolutely yummy and fresh! Perfect for a warm holiday weekend.
Firecracker Ice Pops
As a busy mom I have learned to never underestimate the power of a Popsicle. Dessert prep never got easier than running to the store and grabbing a box of these perfectly patriotic ice pops. Store in your freezer until ready to serve, then sit back and relax while you enjoy the smiles on the faces of your guests!
Next Posts:
There you have it mama! 6 Fabulously delicious and super easy no bake patriotic dessert recipes. Perfect for celebrating our freedoms at your next holiday gathering.