https://www.pinterest.com/pin/Ab2ASaym3GLA9ktwYfnh4lxbp43rMG9jf4KxQMDkhkiKTS5qogTG6mc/
How do they do it? You know, those women who always look polished and put together. Always on trend and never over-the-top. Wanna know their secret? They have mastered minimalist style and today I will share my best tips so that you can too.
What is minimalist style?
"Minimalist style is classic and perpetually on trend."
In case you haven't heard, minimalism is more than just a home with white walls and grey furniture.
It's a lifestyle that allows you to focus on your values and priorities, while decluttering and minimizing anything that is non-essential.
Many people are inspired by this movement toward a "less is more" way of life.
In fact, most of us already know this to be true when it comes to make-up and fashion.
Think of those women who always look great, no matter what the current style is. They aren't overdone, flashy or cluttered by accessories.
Instead their look is characterized by classic shapes, high quality pieces, and timeless wardrobe staples. All three are at the heart of minimalist style.
Below are simple tips you can follow to master your own minimalist look.
Examples of Minimalist Style
A picture is worth a thousand words so I thought it would be easiest to show you a few examples of why I love minimalist style.
Take a look at the images below. Most likely you will realize that this classic style is so simple to recreate.
Of course, there are many variations of this theme. But I am sure you now have a basic image of what minimalist fashion is all about.
https://www.pinterest.com/pin/139822763415926144/
https://www.pinterest.com/pin/604537949958495546/
https://www.pinterest.com/pin/18858892161779673/
https://www.pinterest.com/pin/406027722650347963/
https://www.pinterest.com/pin/AcZ8tq1HZOxgWzWpAN-tBkoEsihLalkj6EiTv-U84pmqP1IYMngkIyk/
Minimalist Wardrobe Color Palette
The backbone of a successful minimalist wardrobe is a neutral color palette.
A great guide to a minimalist color palette from classyyettrendy.com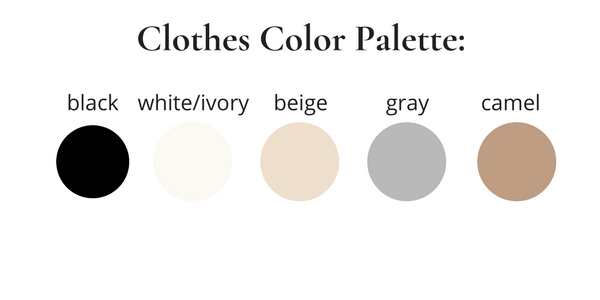 Why? Because they go with everything!
You can absolutely add in color and prints but these pieces will shine when paired with neutrals to anchor the look.
It also reduces the stress and overwhelm of trying to find pieces that match.
High Quality Pieces
Growing up I was super poor and most of my clothes came from yard-sales and hand-me-downs. This led me to always love a bargain when I was old enough to start shopping for myself.
However, I quickly learned that "you get what you pay for."
When developing your own personal minimalist style you will discover that quality wins over quantity every time.
Over the years I have found certain brands that I believe strike a good balance between quality and affordability.
After more than one experience with having a shirt fall apart the first time it was washed I decided I would rather spend a little more on an item that I know will last me 3-4 years.
I also recommend shopping "end of season" clearance sales to find the absolute best deals.
My favorite brands include:
GAP
Calvin Klein
American Apparel
Levi's
Banana Republic
According to Reader's Digest these are the characteristics you should look for when shopping for a high quality wardrobe:
Natural fabrics like cotton, wool and silk
Spare buttons and matching thread accompany the garment
Patterns match up at the seams
Tight stitching (Turn the garment inside out and stretch the seams. You don't want to see light coming through)
Timeless wardrobe staples
These items are basically the meat and potatoes of a minimalist closet. They are items that look good on everybody no matter their age or size.
The result is that your style is timeless, classic and always on trend.
The list includes the following pieces:
White Blouse
https://www.pinterest.com/pin/35254809562242017/
Black Dress
https://www.pinterest.com/pin/316518680041000320/
Dark Denim
https://www.pinterest.com/pin/158259374386082263/
Knit Sweater
https://www.pinterest.com/pin/162903711498121657/
Black Pants
https://www.pinterest.com/pin/194499277635427898/
Trench Coat
https://www.pinterest.com/pin/60094976254675901/
Casual Flats
https://www.pinterest.com/pin/141581982016380040/
Additional Elements of the Minimalist Aesthetic
Carefully selected accessories; typically only 1 or 2
Use of texture to add interest and variety
The occassional statement piece
Minimalist Style vs. Minimalist Lifestyle
Do you have to get rid of all of your clothes in order to achieve the minimalist look?
No.
Just because you like the minimalist aesthetic does not mean that you have to become a minimalist.
The minimlist style is defined by the simplified look of your outfit, not by the number of items in your closet.
On the contrary, having a minimalist, or capsule wardrobe means that you consciously choose to declutter your closet and reduce the number of clothing items that you wear.
A minimalist wardrobe can be created with any style – vintage, bohemian, trendy etc.
I know of many women who rock the minimalist look, but have a TON of clothes.
If you are interested in learning more about practical minimalism for moms and how to simplify your wardrobe you can take a look at here:
There you have it mama! A simple description of minimalist style and how you can achieve your own timeless look with classic, high quality pieces.