Prepping snacks for your next 4th of July BBQ or Memorial Day picnic? It's easy to get Pin-timidated by all the inspiring and amazing red, white and blue snack ideas you can find on Pinterest. That's why I am sharing Easy Patriotic Snacks that won't turn into Pinterest Fails!
Simple Patriotic Party Foods
Whether you are hosting at your place or headed to friend's house we all go through the same steps to put together the food for the event:
Go on Pinterest to get ideas
Make a grocery list
Spend time and money at the grocery store
Return home to start the food prep
Cross your fingers and hope that your version turns out looking anything like the picture on Pinterest!
I have personally experienced a number of Pinterest fails in my day. It is SO frustrating to waste all your time, money and hard work on something that you end up having to feed to the dog!
The bright side to these previous failures is that I have become an expert at spotting Pinterest projects that are fool proof. This includes recipes like the easy patriotic snacks that I am sharing with you today.
Red, White and Blue Snack Ideas
Red, White and Blueberry Skewers

Source: Family Circle
Using the picture above as a guide, simply follow the pattern while placing raspberries, marshmallows and blueberries onto the skewers. Totally adorable, delicious and super simple!
But…if you feel like that may be a little bit beyond your skill level – the next version is even easier!
Follow the exact same steps, but instead of spending the time placing each item on a skewer, just set it on the platter!

Source : Mom Endeavors
Bam! It really doesn't get any easier than that! This version actually uses slices of string cheese instead of marshmallows, but you could use whatever think sounds better!
Cookie Cutter Fruit Salad

Source: Wit and Whistle
All you need for this healthy patriotic treat is a star shaped cookie cutter. Slice a watermelon into 1 inch rounds and use the cookie cutter to make your stars. Toss in the blueberries and strawberries and you are all set! You could also add white raspberries or mini marshallows for the "white" if you felt it was necessary 😉
Easy American Flag 7-Layered Dip
https://www.pinterest.com/pin/93871973464148597/

Source: Super Healthy Kids
If your culinary skills are limited to spreading and sprinkling than this is the perfect recipe for you. It's a traditional layered bean dip
Refried Beans
Guacamole
Sour Cream
Salsa
Black Olives
Then here comes the fabulous part! The final toppings are put on top (canned black beans, shredded pepperjack cheese and sliced cherry tomatoes) to look like an American Flag! It looks SUPER impressive and only takes a few minutes to put together!
American Flag Veggie Tray

Source: Living Locurto
This is just a bunch of sliced veggies, with a few drops of blue food coloring added to Dill Dip. I try to avoid using synthetic food dye and this is what I would use instead.
Cucumbers
Cauliflower
Radish
Red Pepper
Cherry tomatoes
Patriotic Watermelon and Feta Fruit Tray
A fun take on the popular Watermelon and Feta Salad put together on a platter. Simply layer the fruit and feta on the tray in a striped pattern with your blueberries in the corner. This would be super yummy with a drizzle of balsalmic dressing over the top and a few sprigs of mint!
Easy American Flag Fresh Fruit Tray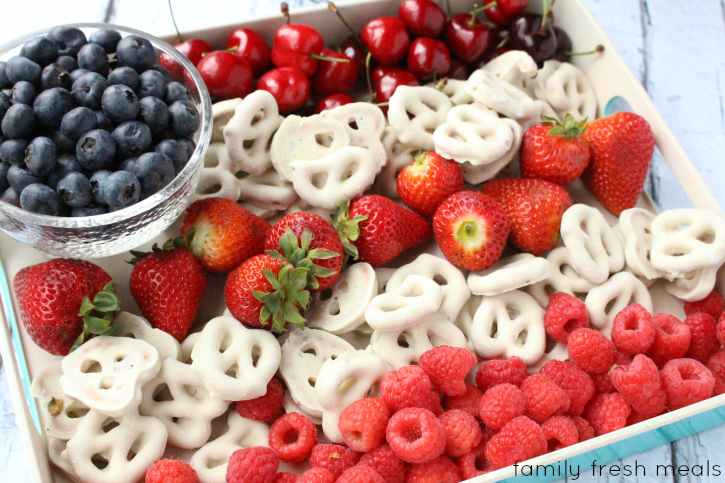 Source: Family Fresh Meals
Very similar to many of the ideas above, but includes white chocolate covered pretzels! Yummy!
Hail Mary – Cracker Jacks


If all else fails, run to the store and grab some Cracker Jacks! Seriously though, the packaging is super cute, they taste delicious AND there's a prize inside!!! What's more American than that? If you are looking for easy patriotic snacks, Cracker Jacks are the perfect solution!
There you have it mama! Super easy patriotic snacks – perfect for your next celebration!
Related Posts: